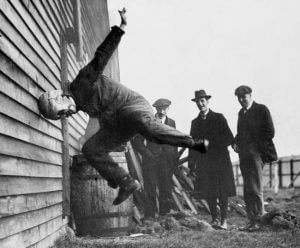 "The Psychology of Quitting"
Follow the natural progression of any injury, occupational or home:
Pain equates to initial shock and disbelief, rapidly followed by self-assurance derived from the reassurance of others that we will be fine in time.
When the pain becomes more than a simple "sprain" and recovery will take days or weeks, we are inconvenienced but not yet alarmed.
The prospect of surgery is daunting but at least we will then be "fixed" in short order.
Subsequent procedures and physical therapy are easily explained and understood. Soon we will be well.
Now superimpose the neglect of an employer or carelessness of a coworker, add the inability to choose your own doctor and the necessary delays for care to be approved, topped off by your body's failure to recover in the expected timeframe, and hopelessness ensues. You may become the next "chronic pain" patient.
Oh yes – there's the job you no longer have, family expectations that have ratcheted down to disability income and the burgeoning belief that your life is to be spent in front of the television, napping and snacking away the day, watching commercials about electric scooters and "not letting the insurance company get away with it".
Would you be tempted to give in to this body that has now failed you? It may be easier than you imagine.