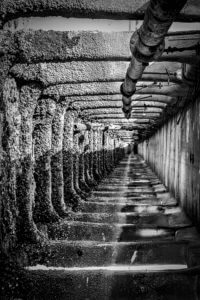 We see a patient in desperation. There comes a time when a surgeon has nothing further to offer a patient.
However, there may be reluctance on the part of the surgeon to state simply that not only does he have nothing further to offer the patient, but that he feels the patient must now begin to independently cope with the pain.
However, instead of the patient beginning to cope with the pain, or being shown how to cope, he/she is sent to a clinic where he is heavily medicated, injected and eventually offered a stimulator or pump implant. This final approach to care can spans 1-2 years or more.
The patient learns to exist in a heavy sedated life, living between dosages of medication, tracking when the next pill or patch is to be used.  There is the desperation for relief from an external source, not via learning to cope. There is no investment in friends, family or hobbies much less consideration for sedentary work options or education leading to such work.
In my experience, there is nothing in these settings that directs the patient toward recognition of his/her strengths and residual capacity for alternate or part time or even volunteer work to make life at least meaningful.
We are not meant to live without daily tasks and responsibilities. If there are no goals and/or medications are substituted for our responsibility to find meaning in our lives, we simply exist only for the medication. The patient is not served by such a frame of reference.