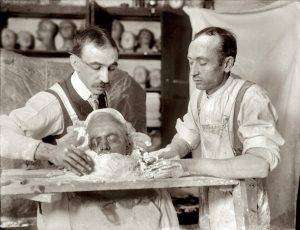 Pre-operative anxiety" : Becoming anxious prior to surgery is a universal reaction in which the doubts and fears of the patient emerge, and over which s/he obsesses.

The State-Trait model assesses the event that is unfolding (state) versus the personality of the patient (trait) that gives rise to the anxiety symptoms. Thus, a patient facing surgery is confronting the upcoming state/circumstance of the surgery and its threats, and must rely upon personality features with which s/he generally copes with anxiety- provoking situations in life.
Clearly, an obsessive and dependent individual will respond differently to impending surgery than will a more stoic and self-sufficient individual.  Females tend to have higher anxiety going into surgery (or at least are more willing to admit their fears).
The anxieties that surround surgery are the well-known fears of:
anesthesia
 unsuccessful surgery
 loss of control
 recuperating in the presence of strangers and associated loss of identity
 post-operative pain and limitations
 changes in body configuration and self-concept, and finally,
 death
If this is one of several surgeries, the pre-operative anxiety is also influenced by the memory of previous procedures.
Pre-operative anxiety is also influenced by the demographics of the patient: educational level, age, marital status and social support system.
Less anxious individuals tend to see the surgery as a brief hiatus in life, and nothing about which to ruminate.  Those with moderate anxiety are able to intellectually and emotionally work through their recurrent fears of the procedure. But those with high anxiety cannot comfort themselves since the fears are overwhelming, inescapable and cannot be set aside even momentarily.
All of these fears can be psychologically measured through a variety of psychometric instruments, but a clear concern is that anxiety impacts attention span. An anxious patient cannot listen to what s/he is being told, and inattention in turn disrupts concentration, so that the patient is unable to fully understand what is expected of him/her prior to and after surgery.
Fears cannot be "dismissed". We must deal with the underlying causes directly, to minimize preoperative anxiety and maximize postoperative compliance.