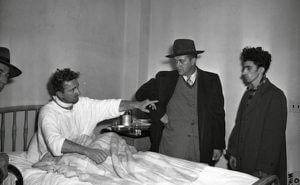 Burn: I had a patient who was barely 21 at the time of his injury. He was shy, poorly educated and had never dated.
He had a minimally skilled production job working with solvents. The solvent sprayer had an old and leaking hose which had spewed solvent upon him.
There was an electrical short in the wiring of his sprayer. The solvent ignited. His clothing burst into flames. This was not witnessed for several seconds until his screaming attracted attention.
A coworker reached for the designated fire extinguisher. The unit had not been serviced and did not functional at all.
They made an attempt to roll the man who was engulfed in flames, but in panic, he was running, fanning the flames that were consuming him. He lost consciousness. He was barely 21 years of age.
He was sent by life flight to a burn unit with third degree burns over 30% of his body, chiefly his arms, chest and neck. There were no burns to his face, but this was not an advantage. He merely had to cover his arms and chest, and no one knew of the accident until/unless he had reason to remove his shirt.
The burn unit was a training facility for nurses, and females close to his own age would remove his clothing and scrape his burns evoking pain, wailing and humiliation. He was already avoidant of females. This entrenched it further.
Alcoholism was present throughout his family, and he began to drink heavily. He had always lived with his parents. He rarely had visitors, and when people came to the family home, he would remain in his room even if such visits lasted several days.
He was unable to tolerate even the thought of seeing the building where this had occurred. He had never had another job. Everyone in his small community knew of the injury.
There was focus upon terms like PTSD and alcohol abuse. Those are, after all, labels that quite often fail to fairly represent the needs of the patient. There were discussions of "settlement" and how alcohol abuse was solely his responsibility.
Such horrific events serve to remind us that we simply were not there and have no clue as to the suffering. We have little to assure the patient that all of his pre-existing difficulties and injury-consequent damages have a ready solution other than the hope that he will learn-to-live with what has occurred.