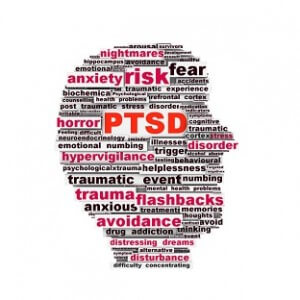 PTSD
There are two types of trauma that can lead to PTSD: 
Those that involve dangerous/threatening impact with the physical environment which include machine injuries, work related fires, electrical shock, falls, motor vehicle accidents and other events where the worker is pitted against his/her 
Those that involve interpersonal trauma which occur when an employee is robbed, assaulted, and/or the victim of injuries arising from the actions of others. 
These latter "interpersonal trauma" most often involve a sense of violation and not only an immediate but also a lingering fear. 
It is this fear of further assault or reprisals that results in the interpersonally caused PTSD symptoms to take on distinctive and persisting characteristics in which the individual begins to fear/avoid locations, interactions, and individuals that evoke the fear based memories. 
The rates of PTSD are higher among survivors in interpersonal trauma. Those who are assaulted are more likely to relive, avoid and be terrorized by their own memories of the event. 
Interpersonal trauma results in the most severe symptoms of PTSD following the trauma. As time passes, those who endured interpersonal trauma have quite distinctive persisting symptoms based upon fear. In effect, the patient becomes conditioned in the aftermath of trauma to make decisions, following interpersonal trauma involve fear-based symptoms, which suggest fear conditioning may be instrumental in persistent interpersonal PTSD.